First Section: BBC Report
Second Section: The Independent Report
Third Section: Guardian Hearing Report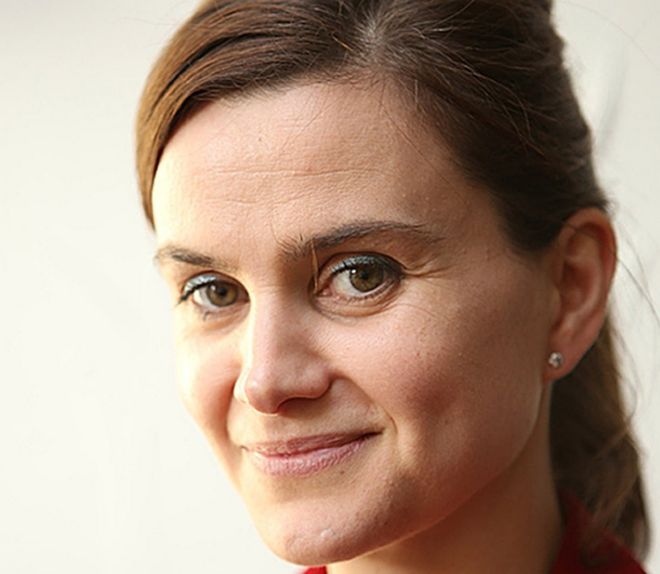 Jo Cox was the Labour MP for Batley and Spen
An MP has died after she was shot and stabbed during an attack in her constituency, police have said.
Jo Cox, 41, Labour MP for Batley and Spen, was left bleeding on the ground by her attacker. A 77-year-old man also suffered slight injuries.
A 52-year-old man was arrested near Market Street, Birstall, West Yorkshire Police said. The MP held a weekly advice surgery nearby.
The MP's death was confirmed at police headquarters in Wakefield.
Police said they were not looking for anyone else in connection with the attack.
Labour leader Jeremy Corbyn said the country would be "in shock at the horrific murder", describing the MP as a "much loved colleague".
He added: "Jo died doing her public duty at the heart of our democracy, listening to and representing the people she was elected to serve.
"In the coming days, there will be questions to answer about how and why she died.
"But for now all our thoughts are with Jo's husband Brendan and their two young children. They will grow up without their mum, but can be immensely proud of what she did, what she achieved and what she stood for."
Cafe owner Clarke Rothwell, who witnessed the attack, said he heard a "loud popping noise that sounded like a balloon burst - a loud balloon".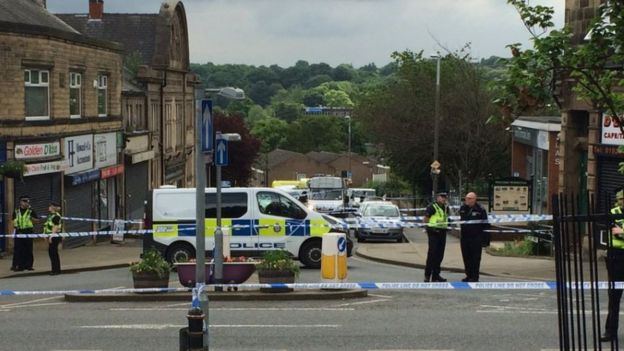 Jo Cox was left bleeding on the floor by her attacker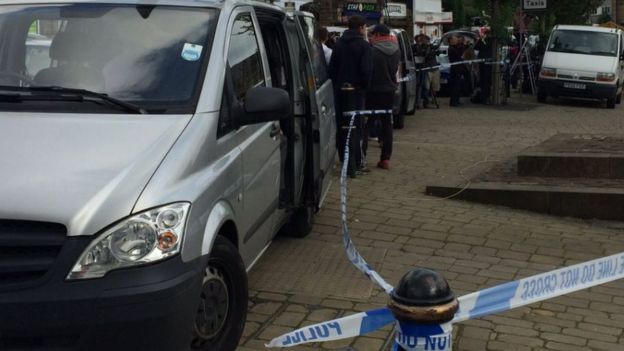 Ms Cox, who was born in Batley, was elected in 2015
"When I looked round there's a man stood there in his 50s with a white baseball cap on and a jacket with a gun, an old fashioned looking gun in his hand," he said.
"He shot this lady once and then he shot her again, he fell to the floor, leant over shot her once more in the face area.
"Somebody tried to grab him, wrestling with him and then he wielded a knife, like a hunting knife, just started lunging at her with a knife half a dozen times. People were screaming and running from the area".
Eyewitness Hithem Ben Abdallah, said the 41-year-old mother of two was left lying and bleeding on the pavement after the incident.
Mr Abdallah, 56, was in a cafe next door to the library shortly after 13:00 BST when he heard screaming and went outside.
"There was a guy who was being very brave and another guy with a white baseball cap who he was trying to control and the man in the baseball cap suddenly pulled a gun from his bag".
After a brief scuffle, he said the man stepped back and the MP became involved.
Mr Abdallah said the weapon had "looked handmade" and a man who had been wrestling with the gunman continued even after seeing the gun.
He said: "The man stepped back with the gun and fired it and then he fired a second shot, as he was firing he was looking down at the ground."
"He was kicking her as she was lying on the floor", he said.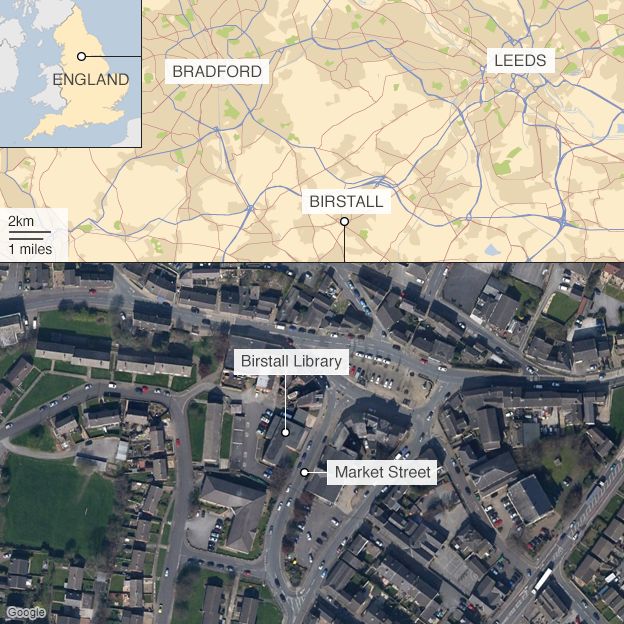 Ms Cox was attacked in her constituency
Her husband, Brendan, has since
tweeted
a picture of his wife standing by the side of the River Thames in London.
David Cameron also
tweeted
to express his concern. "Our thoughts and prayers are with Jo and her family," he wrote.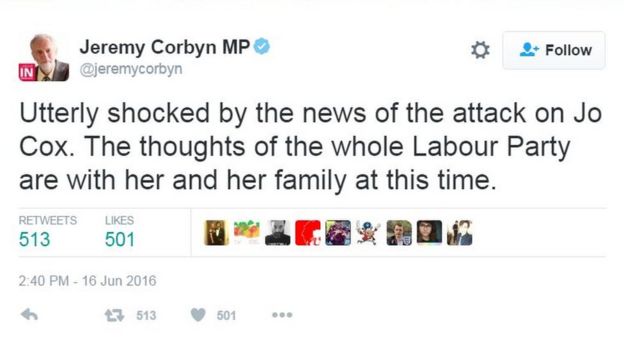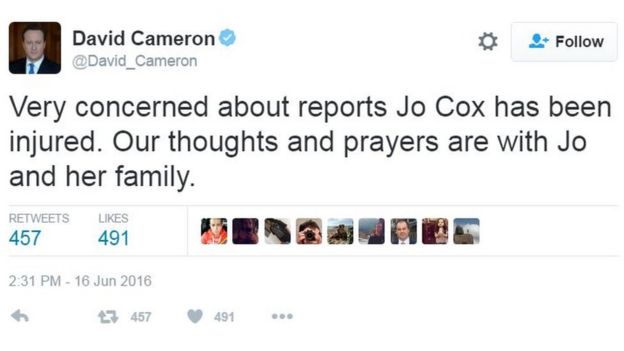 Leeds North East MP Fabian Hamilton said he had known Jo Cox since before she became an MP
Mr Hamilton said: "And I'm just completely devastated, I know Birstall reasonably well, and I think we're all totally shocked."
It has been announced the Vote Leave and Remain have suspended campaigning in the EU referendum in light of the attack.
********************
Temporary Chief Constable wrote:Jo was attacked by a man who inflicted serious and sadly, ultimately fatal injuries. Subsequently there was a further attack on a 77-year-old man nearby who has sustained injuries that are non-life threatening. This is a very significant investigation with a large number of witnesses being spoken to at this time. It's a large and significant crime scene and a large police presence with a full investigation is under way to establish the motive for this attack.
Source
********************************************************************************************************************************************The Independent Below;********************************************************************************************************************************************Jo Cox dead: Suspect linked to hard-right group that has campaigned against the EU
The link between Thomas Mair and the Springbok Club goes back ten years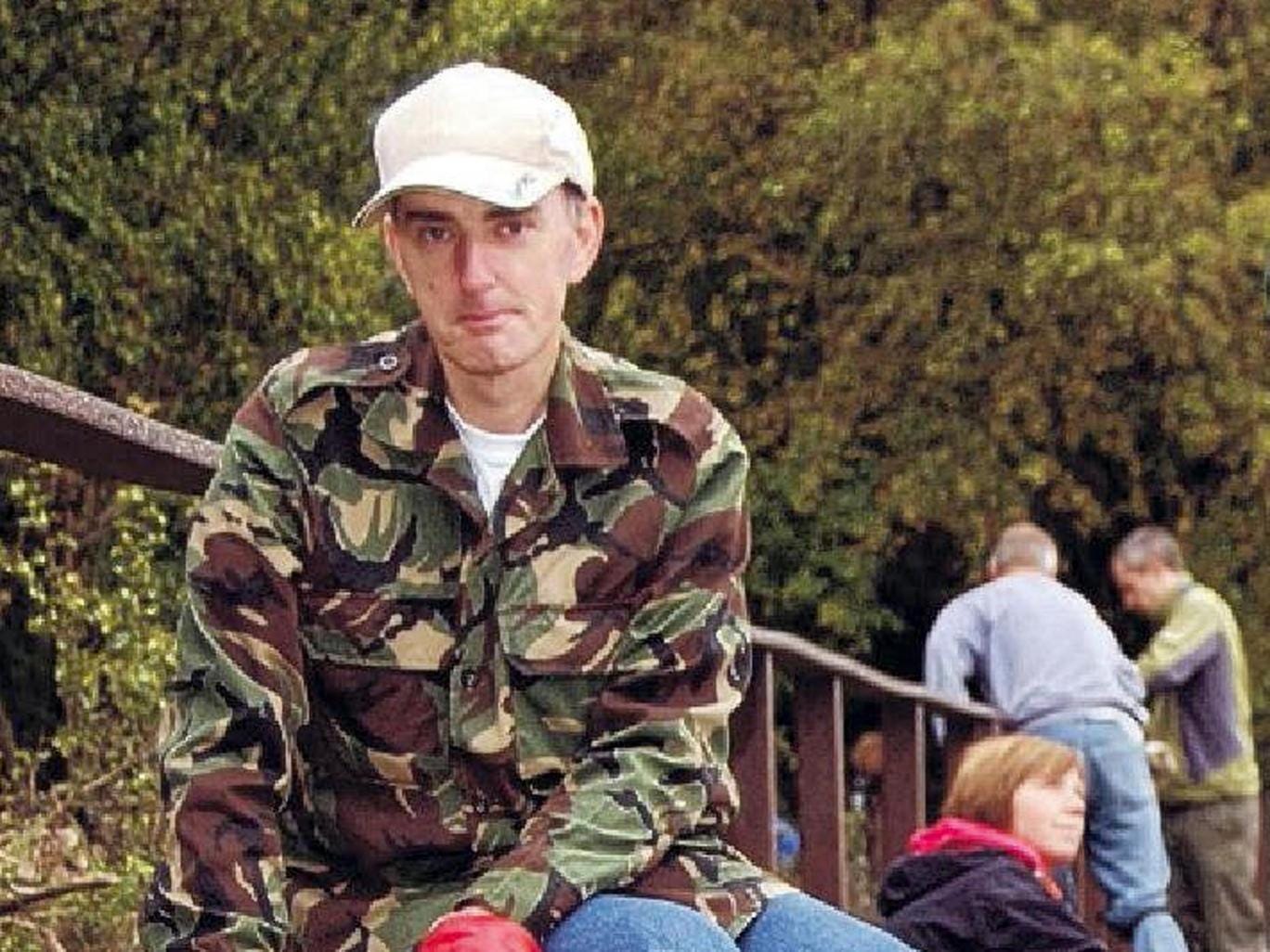 Tommy Mair, 52, was detained by police near his home in Birstall, West Yorkshire SWNS
The man arrested over the killing of Labour MP Jo Cox is believed to have had long-term links with a hard-right group based in London which had been campaigning for many years for Britain to leave the European Union.
Thomas Mair was named as a supporter in an online publication of the Springbok Club, an organisation which has defended the white supremacist apartheid regime in South Africa.
Witnesses to the fatal attack on Ms Cox say they heard Mair shout "Britain First" as the MP was shot and then stabbed. The organisation Britain First, which was founded by former members of the British National Party, has denied that Mair was associated with it and say they condemn the killing.
The link between Mair and the Springbok Club goes back ten years when its online magazine, the Springbok Cyber Newsletter, was inquiring about the whereabouts of "Thomas Mair, from Batley in Yorkshire [who] was one of the earliest subscribers and supporters of "S.A. Patriot" who has moved from his address in the Fieldhead Estate district of the town."
The leading article for June 2016 Springbok Cyber Newsletter, which describes itself on its website as being pro-free market capitalism and patriotism and anti-political correctness, was, however, devoted to Britain and the referendum. It started: "On Thursday, 23rd June 2016 all British voters will have the opportunity to vote on the future of their country. They can vote either to remain entrapped in the artificial and retrograde European Union, or to regain their sovereign independence...."
The article ends by declaring: "But we should not only be concentrating at the negative aspects of remaining in the EU. Our campaign should be primarily positive and optimistic for a future outside the EU. The motto of the Patriotic Forum (an umbrella grouping of patriotic organisations which the Springbok Club is part of) is "Out of Europe and into the World". There is a golden future waiting for Britain out there once the country returns to its traditional vision of looking towards the Open Seas and its ethnic brothers and sisters in the Commonwealth around the globe. The days ahead will inspire us!"
It is not known if Mair had renewed his connection with the Springbok Cyber Newsletter.
Jo Cox shooting - pictures of the crime scene
REUTERS: Media reports said Jo Cox, 41, who is a lawmaker for the opposition Labour Party, had been attacked as she prepared to hold an advice surgery for constituents in Birstall near Leeds
Getty: A handbag and shoes lie on the ground as police cordon off an area after Jo Cox, was shot and stabbed by an attacker at her constituency in Birstall
REUTERS: Police stand behind a cordon in Birstall near Leeds. A British lawmaker Jo Cox was in critical condition after an incident in her constituency in northern England
PA: An eyewitness said the 41-year-old mother of two was left lying in a pool of blood on the pavement after her assailant struck in Birstall
REUTERS: Police stand behind a cordon in Birstall near Leeds
In May 2010 Mair was himself in the news. In an interview with the Huddersfield Daily Examiner he talked about getting work at a local park after being referred to a clinic for adults with mental health problems.
He said: "I can honestly say it has done me more good than all the psychotherapy and medication in the world. Many people who suffer from mental illness are socially isolated and disconnected from society, feelings of worthlessness are also common mainly caused by long-term unemployment.All these problems are alleviated by doing voluntary work. Getting out of the house and meeting new people is a good thing, but more important in my view is doing physically demanding and useful labour."
Neighbours described how he would do gardening chores for local people.
David Pickles said: "He's lived there longer than me and I've lived here since 1975. I still can't believe it. He's the last guy I would have thought of.
"He's just quiet. He kept himself to himself. He lived by himself. He's been on his own for about 20 years.
Another neighbour, who did not want to be named, said: "We've known him quite a lot of years. I've known him since I was young. He lived with his grandmother in that house, she died a few years ago. He was a bit of a loner. It's a bit of a shock - he did everyone's gardens.
"I can't say a wrong word about him, he was so quiet. It's come as a shock to everybody."
Source
*********************************************************************************************************************************************The Guardian Below;**********************************************************************************************************************************************Murder suspect in Jo Cox case 'told police he was political activist'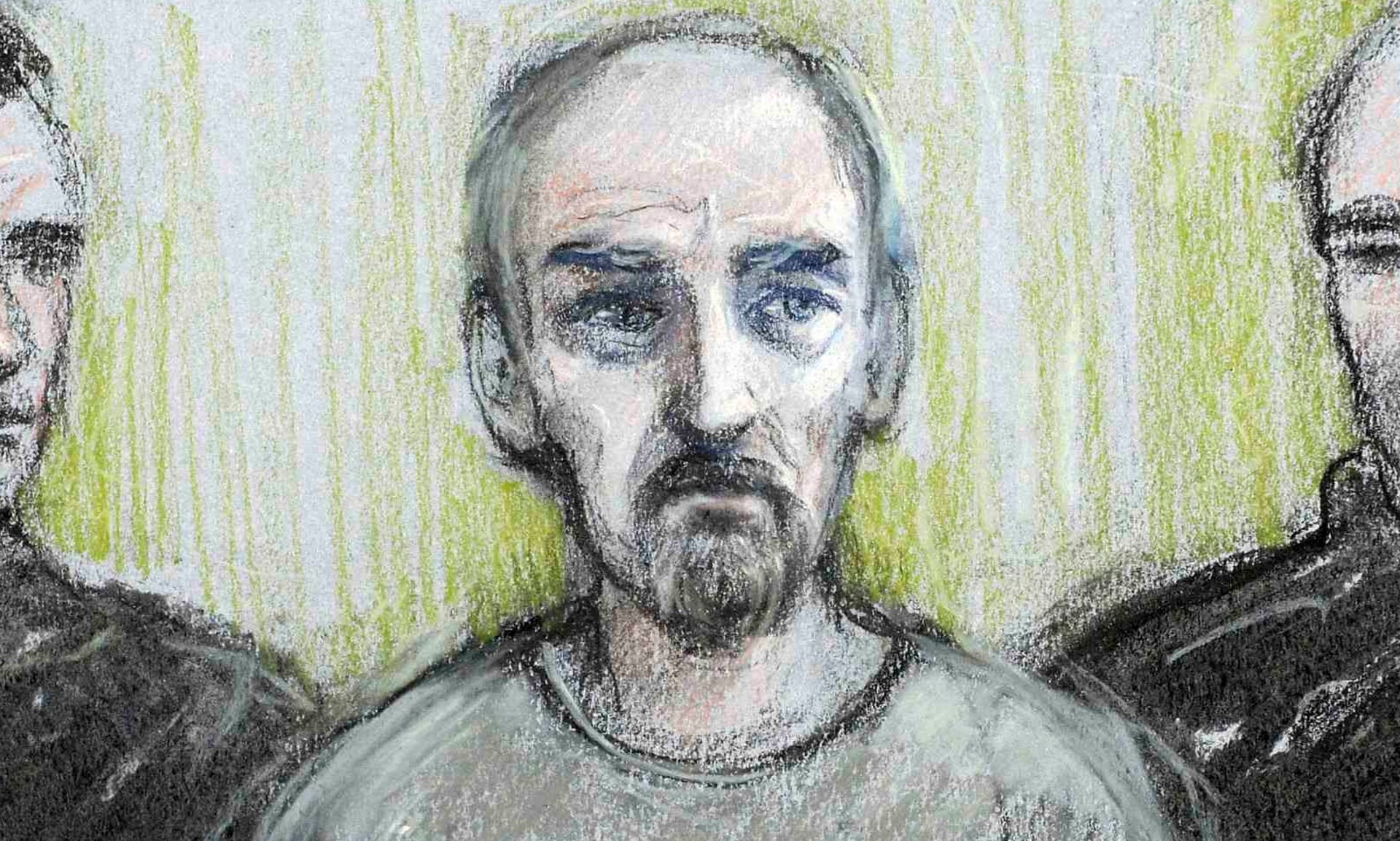 A sketch of Thomas Mair at Westminster magistrates court. Photograph: Elizabeth Cook/Reuters
The man charged with murdering the Labour MP Jo Cox gave his name as "death to traitors, freedom for Britain" during his first court appearance, where it emerged he allegedly claimed to be a "political activist" during his arrest.
Thomas Mair, 52, from Birstall, West Yorkshire, appeared on Saturday at Westminster magistrates court in London where he was formally charged with murder, grievous bodily harm, possession of a firearm with intent to commit an indictable offence and possession of an offensive weapon.
Asked to confirm his name, Mair told the court: "My name is death to traitors, freedom for Britain." The judge subsequently asked the defendant's lawyers to confirm that his name was Thomas Mair, which they did.
The prosecution told the court that Mair told police he was "a political activist" as he was being arrested moments after the fatal attack. This assertion was repeated in a summary of crime released by the prosecution.
Mair also allegedly said "this is for Britain" and "keep Britain independent" as he stabbed and shot the MP for Batley and Spen, prosecutors said both in court and in their printed outline of the case.
Police searching Mair's property found newspaper articles related to Cox, as well as far-right and white supremacist literature, they claimed.
David Cawthorne, from the counter-terrorism division of the Crown Prosecution Service, outlined the charges against Mair, and confirmed he would release that outline to the press.
According to the prosecution's summary, Mair said a variation of "Britain first", "Keep Britain independent", "Britain always comes first", and "This is for Britain" as he launched the attack on Cox, who was killed on the way to her constituency surgery in Birstall on Thursday.
The court was told that officers said the accused was then heard to say "It's me" when confronted by police. He was tackled to the ground, handcuffed and searched. During his arrest, Mair allegedly also stated: "I'm a political activist", and confirmed his name, Cawthorne said.
The defendant's house was searched in the ensuing investigation, the summary stated. Newspaper articles relating to Cox and ideological material relating to extreme rightwing and white supremacist organisations and individuals were recovered from the property, it said.
Source
************************************************************