Source: Independent for their by-the-minute log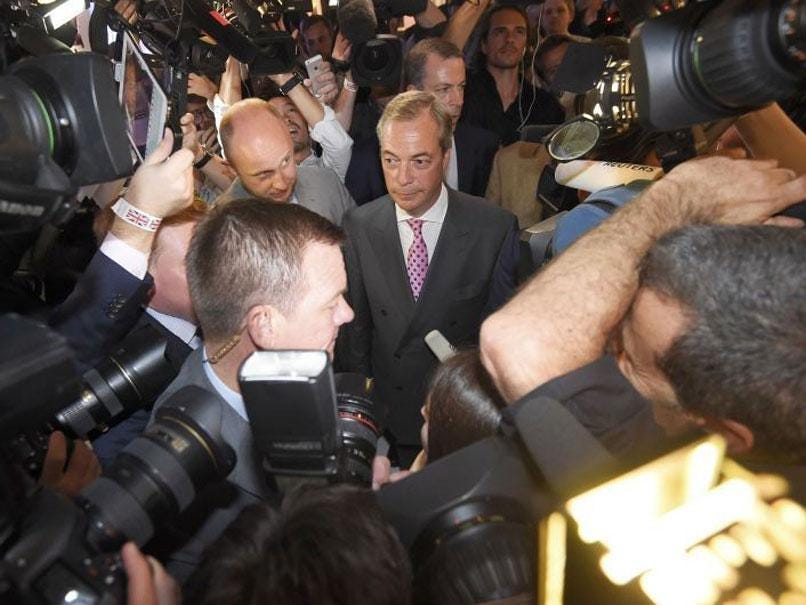 Nigel Farage addresses supporters at a Leave.eu party after polling stations closed Source: Reuters
As 0f 00:53
2 minutes ago
The Isles of Scilly has voted to Remain - 56.4 per cent for Remain and 43.6 for Leave (803 to 621).
5 minutes ago
Ed Miliband has said: "I think all of the polls indicate that Labour voters will vote, perhaps by a substantial margin, for us to Remain in the European Union."
7 minutes ago
A vote to Remain in Foyle, with 78.3 per cent for Remain and 21.7 per cent (32,064 to 8,905).
15 minutes ago
Turnout for the City of London was 73.58 per cent, returning officer Charlie Parker has said.
7 minutes ago
The pound has fallen from $1.50 to $1.43 against the US dollar after the announcement of a wide-margin win for Leave in Sunderland.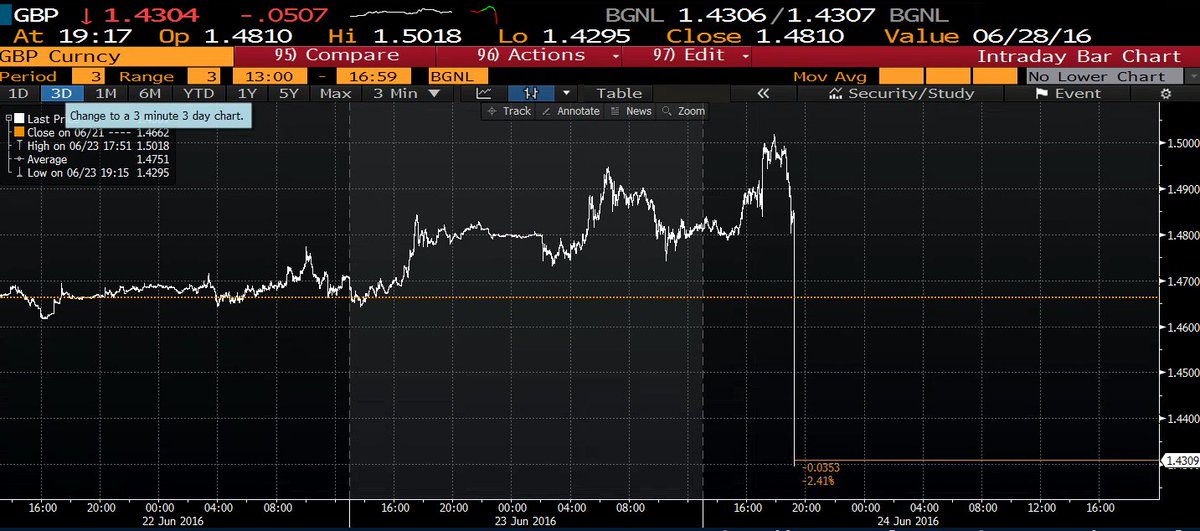 29 minutes ago
"There has been a strong turnout, higher than the general election in many areas," a Labour source has told the Press Association.
"Early indications showing more divergence than we expected - bigger leads than expected for Remain in likely Remain areas but also bigger leads for Leave in likely Leave areas."
33 minutes ago
Betfair ahs now put the odds of Britain voting to leave the EU up to 38 per cent:

37 minutes ago
Sunderland has voted Leave, by 82,000 (61 per cent) to 51,930 (39 per cent).
39 minutes ago
Clackmannashire has voted Remain, with 14,691 to 10,726.
an hour ago
Here is some more on Nigel Farage's speech to supporters earlier:
"The Eurosceptic genie is out of the bottle." They were the words of Nigel Farage, as he didn't "concede" defeat in the EU referendum, but said that, whatever happens, the immigration question that has been so inflamed in the last few weeks, "is not going away." "I don't know what will happen", he said, "but it could be that the reopening of the registration deadline, and the extra two million voters, will be what cost us. I hope I'm wrong, I hope I'm made a fool of."
an hour ago
The Orkney Islands have also voted to Remain, by a margin of 63.2 per cent to 36.8 per cent.
an hour ago
In Newcastle, Remain has won by a narrow margin of 65,404 to 64,598, with a turnout of 68 per cent.
an hour ago
Ukip MP Douglas Carswell has attacked Nigel Farage over the party's "Breaking Point" poster showing a winding queue of refugees stretching into the distance.
"Angry nativism doesn't work in this country," he told the BBC.
an hour ago
Nigel Farage said if Remain win, it is because of the two million extra voters who were allowed to register late.
He addedy: "Win or lose this battle, we will win this war, we will get this country back, we will get our independence back and we will get our borders back."
an hour ago
As he arrived at the Leave.EU party in central London, Nigel Farage said: "There's a bit of a difference here between who's winning this battle and who's winning the war."
an hour ago
"The Eurosceptic genie is out of the bottle and it will now not be put back," Nigel Farage has said.
an hour ago
Gibraltar has voted in favour of remaining in the EU by a wide margin of 96 per cent to 4 per cent.
an hour ago
A turnout of 64 per cent has been declared in Sunderland.
an hour ago
A minute's silence has been held at the count in Leeds for the Labour MP Jo Cox, who was killed last Thursday.
an hour ago
The count at the Parkview Centre in Bristol has been suspended after the fire alarm went off.
an hour ago
A turnout of 68.5 per cent has been reported in the Orkney Islands, with 11,402.
Newcastle's turnout has also been reported, at 67.67 per cent with 129,072 people voting.
2 hours ago
Nigel Farage has now said he thinks Britain has voted to stay in the European Union.
He told the Press Association that was based on "what I know from some of my friends in the financial markets who have done some big polling".
2 hours ago
Theresa Villiers, the pro-Brexit Northern Ireland secretary, says she thinks Remain have won.
She told Sky News: "My instinct is that Remain have won. I would put it down to Project Fear succeeding."
2 hours ago
Pro-Brexit Tories, including Boris Johnson and Michael Gove, have signed a letter backing David Cameron to remain as Prime Minister after the referendum.
The letter, signed by 84 MPs, said: "We believe whatever the British people decide you have both a mandate and a duty to continue leading the nation implementing our policies."
Signatories included all of the Cabinet-level ministers who broke ranks to join Vote Leave: Mr Gove, Chris Grayling, John Whittingdale, Theresa Villiers and Priti Patel.
The pro-Brexit former Cabinet minister Iain Duncan Smith said he was not asked to sign the letter, but insisted Mr Cameron should stay on as PM.
He told BBC News: "Actually I wasn't asked to sign the letter but I've been very public all along to say that I think he has a duty to stay.
"I'm not in government any longer so I assume that's why I wasn't asked - I'm just a backbencher."